If you are interested in doing your Power Engineering degree at SUSU please take the following steps:
Contact our International Mobility Office (at sanochkinadv@susu.ru ) and learn more about the programs we offer.
Send us the scanned certified copies of the following documents:

Scanned copy of your passport + certified translation
Application form

We will contact you should we require any additional information
Once your invitation is ready (30 days), we will send it to you by e-mail.
You need either the Acceptance Letter or the Invitation Letter (or both)
Invitation Letter for studies is an official document issued by the Department of Passport and Visa Services of the Russian Federation Ministry of Interior. To execute the Invitation, you need a high-resolution photocopy of your passport; the passport expiry date shall be no less than 18 months after the intended date of entering the Russian Federation
Acceptance Letter may be required by the Consulate to issue a visa, and at passport contol at the airport.
Once you have received your Invitation Letter/your Acceptance Letter, you can apply for a visa at a Russian Consulate. Please, consult the consulate or embassy where you are applying to make sure that you meet all the current application and documentation requirements.
Inform us of the exact date and time of your arrival (at imo.susu@gmail.com) so that we could arrange accommodation and the airport pick-up service.
Come to study at SUSU.
Please, do not forget the documents which you will need to register at the university. These documents are:
The Applicant's ID document (passport)
Certificates/diplomas of your completed degree and transcripts/diploma supplements (with certified translations).
APPLICATION TIMELINE: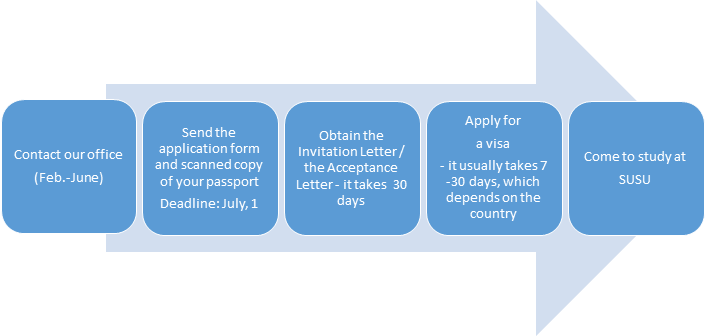 Language requirements
You are not required to show your formal qualifications, but you do have to understand that it is essential that your English/Russian language skills are good enough for you to undertake a course that is taught in English/Russian. We run a Russian as a Foreign Language remedial course for students who are not sure about their language skills.